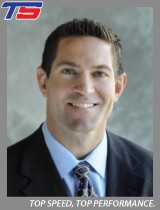 Dr. Brad Homan, Medical Director of Sports Medicine, Chief of Surgery at Florida Hospital Celebration Health, and President of Celebration Orthopaedics Sports Medicine Institute is uniquely trained in treating athletes of all ages. A native of Tampa Florida, Dr. Homan attended the University of Florida for his undergraduate degree. He earned his medical degree from the Nova Southeastern Medical School. After medical school, Dr. Homan completed his orthopaedic surgery residency at Ohio University where he was Clinical Instructor. Following his residency program, Dr. Homan pursued his interests in sports medicine and continued with a post-graduate fellowship in Sports Medicine and Arthroscopy in Orlando.
In 2005, Dr. Homan joined Celebration Orthopaedic and Sports Medicine Institute. Since his arrival, his involvement in the Central Florida community continues to expand every year. Starting with the development of the Sports Medicine program at Florida Hospital Celebration Health, Dr. Homan now serves as a team physician to eight (8) High Schools, TNA Professional Wrestling, the Orlando Sharks Professional Soccer and the Orlando Rage Professional Football. Dr. Homan also participates as the Sports Medicine consultant for Tampa Bay Buccaneers Training Camp, Nike SPARQ / Tom Shaw Sports Performance Training, the National Basketball Association Pre-Draft Combine and the Major League Baseball Pre-Draft Combine. Dr. Homan's commitment to sports medicine extends not only in athletics but into academics. As the Director of Sports Medicine, he works closely with the physician resident program at Florida Hospital as well as other health care professionals. Dr. Homan regularly teaches advanced arthroscopy skills to residents and practicing orthopaedic surgeons. He has published literature in orthopedics and sports medicine and continues to develop and work on research projects.
Dr. Homan is Board Certified in orthopedic surgery and is a member of the American Osteopathic Association, American Osteopathic Academy of Orthopedics, American Academy of Orthopaedic Surgeons, and American Osteopathic Academy of Sports Medicine.
General Info:
Chief of Surgery at Florida Hospital Celebration Health
Medical Director of Sports Medicine at Florida Hospital Celebration Health
Board Certified Orthopaedic Surgery
Fellowship Trained in Arthroscopy & Sports Medicine Specialties:
Sports Medicine
Shoulder Arthroscopy
Knee Arthroscopy
Hip Arthroscopy
Ankle Arthroscopy
Wrist Arthroscopy
Locations:
Celebration Health Phone: 407.303.4270 410 Celebration Place Ste: 106 Celebration, FL 34747
Directions
Kissimmee 2450 N.Orange Blossom Tr. Kissimmee, FL 34744 Phone: Fax: 407.303.4271